Important Notes:
This topic is a copy of our quick-start guide for a development kit released in 2015. We have moved the quick-start guide content we created to use the kit with our portal tool here as it has been removed from our support site. Support for the actual development kit and firmware should be found with Texas Instruments.
Some links may have changed at this point since it is now ~3 years later from release by TI.
Since 2015, Exosite has released a new IoT platform called Murano and most documentation for Exosite you will find is in regards to this. You will still find documentation on our legacy One Platform and Portals web application technologies , which are what this development kit uses.
---
The Texas Instruments Connected LaunchPad Evaluation Kit EK-TM4C1294XL uses the Texas Instruments Tiva™ C Series TM4C1294 microcontroller. This kit ships with Exosite application code already flashed onto the chip!
UDATE on September 2015: Texas Instruments has released the Crypto Connected LaunchPad Evaluation Kit EK-TM4C129EXL in September of 2015.
This reference IoT application code provides a quick way to evaluate an IoT platform provider, Exosite to remotely see data, interact with your devices, and build dashboards / alerts. The Exosite free account in the ti.exosite.com domain is provided by TI and Exosite for evaluation purposes.
Users can access the source code for the Connected LaunchPad and compile / program different applications on the kit. Please see the Links below for where to find this information on TI's tools. You can also use the Sensor Hub Booster Pack with the Connected LaunchPad and Exosite.
TI's youtube video about this kit can be found here:
https://www.youtube.com/embed/DZBRR7UKJUs
Downloads and Links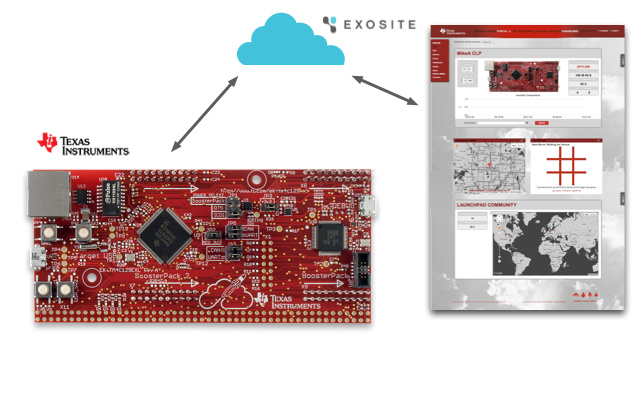 Quick Start / Getting Started - CLP IoT Application
1. Register with Exosite
Go to ti.exosite.com and create a Portal account. Sign-Up
Note: If you already have an Exosite user account under a different Exosite Portal sub-domain, click 'Add Account' or go here to add your existing user account
You should receive an email to activate your account which will contain a activation link.
Account activation issues forum post
2. Add your Connected LaunchPad to your Account
Log into ti.exosite.com and click the 'Click Here' link under "Getting Started Guide" on the Home Page to add your device. This will open the 'Add Device' window.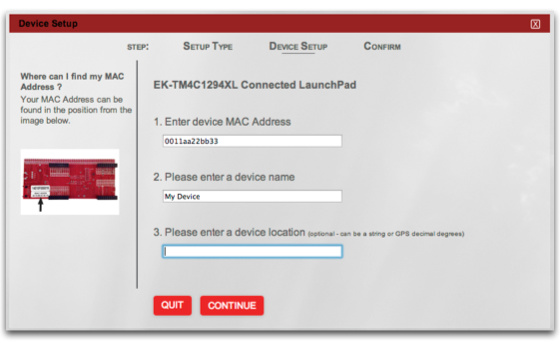 Setup Type: Click 'Select a supported device below' option and and select the either the "EK-TM4C1294XL Connected LaunchPad" type or "EK-TM4C129EXL Crypto Connected LaunchPad" type depending on the kit you have.
Device Setup: Enter the device's MAC Address (this can be founder on the bottom of the board), a Device Name (pick anything you want), and an optional Location. (Note this location is not used by the Map on the application dashbaord)
Confirm: Your Connected LaunchPad is now registered with Exosite. You can click on the 'Devices' menu item and see all of your devices. You can also now see your device on your home page. Clicking on your device on the home page will show the default application dashboard.
3. Connecting the Hardware
Connect the included Ethernet cable from the Ethernet port of a router to the Ethernet port of the Connected LaunchPad.
Verify that the Power Select Jumper (JP1) is in the "ICDI" position. Connect the included USB cable from a Windows®-enabled PC to the Debug USB port (top-right corner) of the Connected LaunchPad.
Note: If the "Found New Hardware" dialog box appears, ignore it until it is time to install the drivers.
4. Demo Application
Go to the Home tab on the far left Manage Menu of the TI Exosite web portal. On the 'Device List' window (widget) click on your device to see it's default application dashboard. Here you can find widgets that display data and interact with your Connected LaunchPad.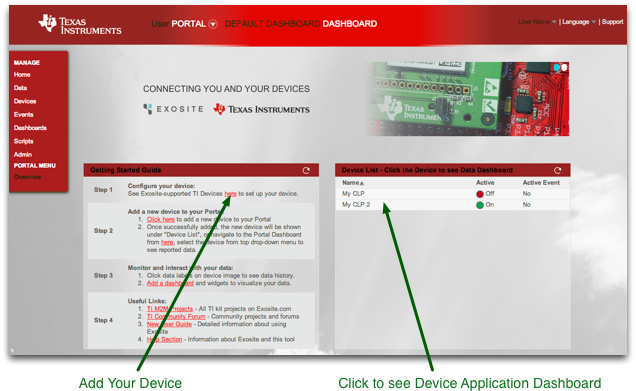 For more details about this quickstart application, see the readme file located at the default file path C:/ti/TivaWare_C_Series-X.X/examples/boards/ek-tm4c1294xl/qs_iot.
Troubleshooting Notes are listed below
5. Connecting to the Virtual COM Port
The Debug USB Port provides debug and Virtual COM Port connectivity via the In-Circuit Debug Interface (ICDI). A console is provided over this serial port to interact with your device from your computer.
More information about the Debug USB serial port can be found below.
Support
If you run into issues connecting to the cloud, or have other questions, use the following resources:
Note: The firmware for the device was developed and is maintained by Texas Instruments.
Application Information
The demo Internet of Things application uses the Exosite One Platform API to send and read data from the Exosite Platform which stores data, processes it with scripting capabilities and allows for visualization of the device data in Exosite Portals web application.
Watching the debug output from the Debug USB Port will provide a window into what the device is doing with Exosite. The application will first attempt to provision with Exosite (activate and get a CIK). It will attempt to do this at boot if it does not have an Exosite CIK stored in non-volatile memory. A device will not be allowed to activated until a user adds that specific device to their web portal. It's important to use your device's MAC Address which can be found on the sticker or copied form the Debug USB port output. If a device is mistakenly added to a web portal with the wrong MAC Address, you can easily delete it and add your device again.
Once a device has successfully activated, it will begin sending data (Analog IO pin values, chip junction temperature value, button pushes, on-time) and also reading for control of LED 1 and LED 2 (on or off). The data is sent to Exosite platform and is accessible to the developer to begin building dashboards and creating scripts to interact with the data.
Default Dashboard Application
Once a device has been added to a Portal, it should attempt to activate and begin interfacing with Exosite. Without any work on the device, you should be able to begin seeing data it is sending and turn it's D1 and D2 LEDs on and off.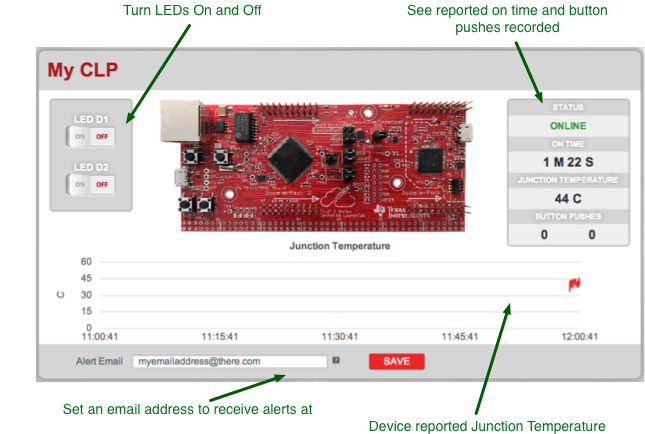 Debug USB Port
The debug USB port for the Connected LaunchPad provides a useful console for getting notified of what the device is doing and for accessing features of the application. Use a Terminal program like TeraTerm or Putty to use the virtual serial port over the USB connection to your computer from the device.
To use the Virtual COM port, install the Stellaris ICDI Drivers on your PC. The drivers and driver installation instructions can be found at www.ti.com/tool/stellaris_icdi_drivers. Once installed you can connect a terminal application to the COM port running at 115,200 baud, 8-N-1.
Computer - Device Manager - COM Port

Connected LaunchPad USB debug console

Testing an Alert and Scripting
To test out the alert script example, make sure to enter a valid email address in the email address form on the dashboard page. On the device, at the prompt type 'alert 0'. This will send a 'Hello World!!' message to your email address. To see how this cloud script works, go to your scripting manage page and click on the script called 'Alert Message Handler' to open the script editor.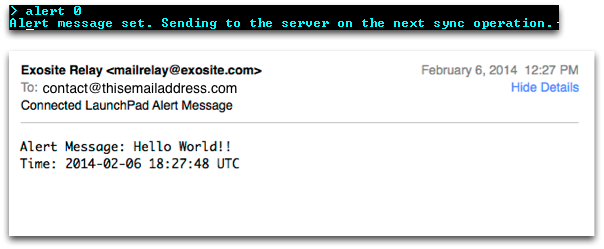 Playing Tic Tac Toe!
You can play Tic-Tac-Toe through the dashboard against a player using the device debug console.
Playing:
The game is started by the device. Type the command 'tictactoe' at the prompt to start.
The game will ask if you'd like to play only on the device (locally) or online with the local user starting first or the remote user.
If you choose to play online and local user starts, it'll prompt you to enter the row and column of your move.
One a 'move' has been made, it will wait on the remote user to make a move from the web portal interface.
Once a user has three in a row, that user wins!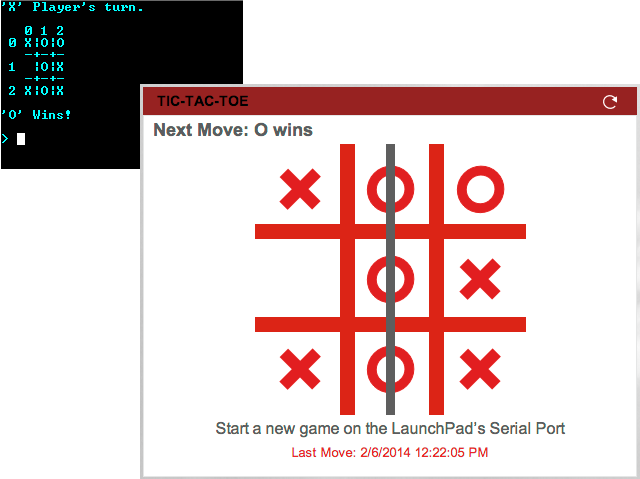 Location Map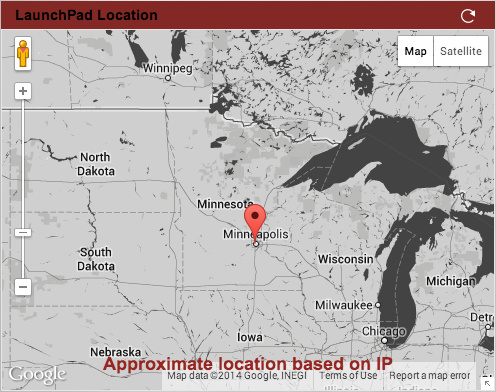 The Connected LaunchPad has no GPS nor other way to be aware of it's location. The Map on this application dashboard uses a technology called IP-based Geolocation that pairs an IP address to a geographical location, commonly used by websites. This is an approximate city location based on the Connected LaunchPad's IP address and depending on the connection provider (ISP / Carrier Network) it may or may not be exact. Broadband connections are likely to be more accurate than Cellular Networks. The tools writes the approximate GPS coordinates into the data source called 'location'. Note, we are only using the city coordinates.
For more details about this quickstart application, see the readme file located at the default file path C:/ti/TivaWare_C_Series-X.X/examples/boards/ek-tm4c1294xl/qs_iot
FAQ
Where do I get support for the Connected LaunchPad?
This hardware platform including firmware was developed, sold, and is maintained by Texas Instruments, who recommends posting to their forums for product support:
Texas Instruments Engineer to Engineer (E2E) Forums
For questions regarding the Exosite IoT Platform / Web Portal, feel free to use our community forums or submit a support ticket.
Exosite Community (CLP Troubleshooting)
How do I send myself an email alert based on a data source?
There are two ways to do this. One is to go to the 'Events' manage page (link on the Manage menu in Portals) and create a simple logic event (a data rule in the Exosite platform). Something such as greater than or less than to a value, with a time constant is possible. Once an event is created, an alert can be added to this event on the same page. Click the 'Add Alert' link and specify Email type and who it should go to.
Events / Data Rules / Alerts Overview
The second is to create a script on the Script Management page. A window will pop-up that will allow you to write a Lua script that runs on the Exosite One Platform (Script API).
How do I create a script to process data, send dispatches (email, sms, http, xmpp), convert data, or run algorithms?
You can used Exosite's One Platform scripting language. Start by creating a script on the Script Management page. A window will pop-up that will allow you to write a Lua script that runs on the Exosite One Platform. There are templates available in that window to use as a starting point or you can find examples in this repository.
How do I create my own custom dashboard?
Go to the Dashboard Manage page (available on the manage menu) and click 'Add Dashboard' link in the upper right-hand corner of your dashboards list. This will allow you to create a custom dashboard and start from scratch. You can add widgets, either off the shelf or custom ones and attach to data sources and device info.
How do I build my own Exosite application / product?
This device has a pre-configured Client Model (Product) to provide a kit experience. When the device is added to your portal, the data sources, scripts, and dashboard page are pre-configured. You can make this device your own product by creating an account with Exosite that includes a Vendor ID and administrative access to creating Client Models. The Exosite whitebox account provides you with your own sub-domain (yourcompany.exosite.com) and a vendor account to create client models. You can customize the experience, branding, and theme of your sub-domain.
We recommend talking to us about our new Murano platform for building your own IoT applications.